Power music image



PUNK ROCK
HARDCORE
NEW WAVE
THE FAMOUS BANDS AND ARTISTS HAVING PUNK ROOTS
PUNK IN POLAND OF THE 1980S
PUNK IN CANADA
REAL ROCK SITE/TEMPLE
"FREE WIKI"
PUNK ROCK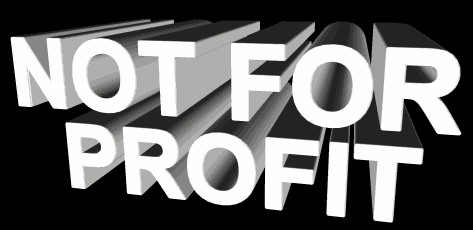 Punk rock is fast, loud, violent and filled with power music which may be dated from 1967. That year THE STOOGES were formed. It was in New York City (NYC). The key bands in this debate on the underground and punk music were also THE WHO and VELVET UNDERGROUND. But the first punk rock bands were actually NEW YORK DOLLS, RAMONES and TELEVISION. "Brothers Ramone" (RAMONES) turned up in NYC in 1974. They wore the leather jackets, the would-be symbol of punk style. Moreover, TELEVISION and NEW YORK DOLLS occurred in NYC in the early 1970s . "Telly boys" and "Dolls" are still considered one of the founders of punk music. However, as for glam rock, NEW YORK DOLLS played an important role, either.
It must be noticed that glam rock and shock rock could have been an inspiration for many punk rockers. DAVID BOWIE with his shocking image ("Ziggy Stardust") and American band - KISS (with their vividly coloured faces and provocative costumes) seemed to be the pioneers of punk rock, too.
Nevertheless, in Europe punk rock became famous in 1976, London, England. That time SEX PISTOLS and THE DAMNED played their first gigs. Punk was not only music (punk rock) but also the way of living and thinking about reality and milieu (punk subculture). For many adolescents, who were furious about unemployment, state corruption and media serving the rich not the poor, punk music was the only way to change status quo. Punks actions focused on provocation and rebellion. Furthermore, punk music showed the world that simplicity was a valuable thing and the song's text was really important. The punks lyrics concerned in general: conformity, money-based society, consumption, insincerity, media effects, the state corruption, poverty, injustice, violence, war and mass production. The thing that could astonish us was the frankness of punk artists. Among them we could find out about the individuals who were sensitive to everything that was human (being successful or unsuccessful, negative and positive emotions). Insincerity, lies, dishonesty, hypocritical nature of the world seemed to be the main reason for raising an objection as far as the "unmasked punks" were considered. (A mask is false self-image, a sort of self-deception. The unmasked are those who became veteran punks after they had not sold themselves and their creation). The another fact worth mentioning was the punks' faith in anarchy. The concept of "support peer groups", which is based on the assumption that through helping each other punks could actually contest the power of money and the oppressive state influence, is surely linked to the anarchist lifestyle (look over hardcore section to find a "crew"). However, contrary to this view, somehow punks also claimed that everyone should have been a self - authority or a self-reliant person. The independence seemed to be highly valued by them and money was usually something they just could do without. Currently, it could be considered something more ridiculous than might be expected by the majority. Such an attitude is both naiive and quite unique in our postmodern world. However, as the reality we live in is money - based and commercial, people are sometimes selfish and insensitive to the needs of others, especially those who are weak due to old age, illness, disability and poverty. Nevertheless, money is necessary to live.

As for the punk music, every concert of punk rock band could have ended up with a scandal or even worse. The audience and musicians often constituted one social group that manifested its attitude towards the oppression system and its contributors: police, government, judiciary, army, religion, mass media. The gigs often led up to brawls and punch-ups provoked by nazi punks and skinheads. Those people attended punk rock gigs to express their rebellion in an unacceptable way. They were beating and kicking others. Sometimes there were mortal accidents. Nazi punks (those punk rock fans who represented the right wing) used to be extremely antisocial.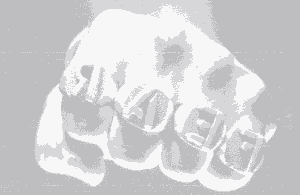 Many bands were not able to earn their living, playing punk rock. Some musicians often did additional jobs. They played punk for people, their fans. It did not matter how large the audience was. It happened that they could play for just fifty persons or thousands of fans (see the logo which states NOT FOR PROFIT). The assumption: "not for profit" was simply the core of all "underground music branches and styles (industrial, techno, new wave, hardcore, punk, straight edge, hard-line)". However, in my opinion, each of these music genres should be labelled "punk" despite the fact that the term is often omitted because it is believed to be pejorative. Nevertheless, many, in particular punk rock bands, have been commercial so far because punk music is successfully sold in the world, even nowadays. Some managers made big money promoting this music e.g. Malcolm McLaren (SEX PISTOLS). After punk boom in 1976, many other bands began performing on the stage not only in England and the USA but all over the world. We could mention few bands which were established in the 1970s and early 1980s (see the table below).
| Country | Punk rock bands |
| --- | --- |
| USA | DEAD KENNEDYS, BATTALION OF SAINTS, BLACK FLAG, CIRCLE JERKS, T.S.O.L., GANG GREEN, 76% UNCERTAIN, CRUCIFIX, AGENT ORANGE, ADOLESCENTS, POISON IDEA, BAD RELIGION, BAD BRAINS, SUICIDE, BLONDIE |
| United Kingdom | G.B.H., THE EXPLOITED, THE CLASH, TOM ROBINSON BAND, THE CURE, U.K.SUBS, SUBHUMANS, BUZZCOCKS, WARSAW (JOY DIVISION), PETER AND THE TEST TUBE BABIES, CRASS, CONFLICT, SHAM 69, PENETRATION, THE VARUKERS, EXTREME NOISE TERROR, OI POLLOI, COCKNEY REJECTS, THE VIBRATORS, ANGELIC UPSTARTS, KILLING JOKE |
| Ireland | THE BOOMTOWN RATS, U2 |
| Northern Ireland | STIFF LITTLE FINGERS |
| France | PARABELLUM, HEIMAT-LOS |
| Canada | D.O.A., NOMEANSNO. As for Canadian punk history click HERE to get an extensive view of it. |
| Australia | THE SAINTS, THE BIRTHDAY PARTY |
| Germany | DIE TOTEN HOSEN, THE BATES, ROSTOK VAMPIRES |
| Netherlands/Holland | THE EX, B.G.K |
| Poland | BRYGADA KRYZYS, TILT, DEZERTER, TZN XENNA, SMIERC KLINICZNA, KARCER, ABADDON, MOSKWA, SIEKIERA, KOBRANOCKA, KSU, SEDES, DEFEKT MUZGÓ, KULT |
The 1980s and the 1990s were the decades of punk rock rebirth. That time many smashing bands, searching for the new sound occurred. Among them were: SONIC YOUTH, PIXIES, CHUMBAWAMBA, PULP, ALIEN SEX FIEND, THE CULT, NEW MODEL ARMY, FUGAZI, BAUHAUS, THE FALL, CLAN OF XYMOX, SINK, BUTTHOLE SURFERS, THE OFFSPRING, RANCID, GREEN DAY, THE STROKES, and many many more. The music played by them was sometimes called either "new wave" or even "alternative rock". An exception to the rule is Glenn Danzig. He performed in MISFITS as a frontman. The music played by MISFITS was a pure punk merged with a gloomy atmosphere borrowed from horror stories and movies. However, Glenn's music in his own band (DANZIG) is rather more like rock'n'roll, blues or heavy metal inspired by occultism and magic. Moreover, his uncommon lyrics may inhibit the purists through some erotic and sexual background.
Nowadays some dance, techno bands appeal to the punk rock tradition. A fascination of punk is expressed by famous and controversial band PRODIGY. Their leader Liam Howlett labelled himself and his friends "cyber punks".
HARDCORE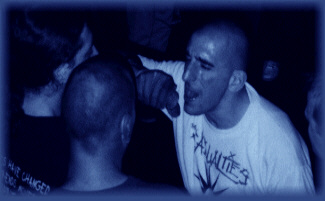 Hardcore derives from punk rock. Most of hardcore artists are actually ex-punks. Taking into consideration the sound, hardcore music is similar to heavy metal rock, especially to thrash, death metal and metalcore. But, unlike heavy metal rock, hardcore music involves verbal expression of ideas or some kind of idealogy in the songs text. They are very important to human being. Every man should be able to get over drastic moments in order to stay an honest man. The lyrics of hardcore artists are associated with everyday living and the problems youngsters must deal with e.g. infidelity, frankness, suicide, self-destruct, drug and alcohol abuse, polluted environment, isolation, money, faith, self-worth, self-confidence, sex, violence, love, trust. Like punk bands, the hardcore groups are rebellious and protesting but their objection to reality carries more positive and creative aspects. Most of hardcore followers reject nihilism and disregarding attitude towards the world manifested by many punks. The key to better living, as the hardcore ideology suggests, is to fight permanently against personal weakness and to reach for personal integrity (honesty and loyalty). One cannot forget its spectacular, main branch called "straight edge". It was represented by such bands as: JUDGE, SPERMBIRDS, BATTERY, BROTHERHOOD, IGNITE, YOUTH OF TODAY, MINOR THREAT, STRIFE, BOLD, HEAD FIRST, MOUTHPIECE, MAN LIFTING BANNER. "Straight edge" protests against everything punk involves. Both "straight edge" and hardcore focus on positive aspects of living, self-respect, dignity, honesty, social equality, a sense of responsibility. Its extreme wing, so-called hardline, argues that rebellion should be connected with strict moral standards and those who are immoral ought to be removed from society. Some hardline bands such as RAID, VEGAN REICH were too radical. They behaved in an antisocial way, e.g. setting slaughterhouses on fire, beating people drinking beer or smoking cigarettes. In this fashion their actions were similar to those observed in skinheads or hard mods. However, unlike skinheads, the hardliners are ex-punks. The next difference is the fact that hardliners are vegans (they do not eat any food products of animal origin). Skinheads do not use vegetarian diet. You can read an interesting article about hardline ideology in Free Wiki. I have only focused my attention on a few aspects of it.
Another, both interesting and extreme sub-genre, namely "communist straight edge" actually tries to merge hardcore with more radical views and trends such as internationalism, communism, gay and lesbian liberation movement, do it yourself ethic (for example a Dutch band - MAN LIFTING BANNER or a NYC band - BORN AGAINST).
Hardcore became popular in the 1980s and 1990s. We should mention such hardcore bands, which were more active in those decades, as for example: T.S.O.L. (True Sounds of Liberty), NOMEANSNO, AGNOSTIC FRONT, S.O.D., MADBALL, M.O.D.(Method of Destruction), SUICIDAL TENDENCIES, 7 SECONDS, SLAPSHOT, HEAD FIRST, YOUTH OF TODAY, GORILLA BUISCUITS, PROJECT X, SPERMBIRDS, BURN, BREACH, NEGLECT, DAMNATION A.D., INTEGRITY, BOLD, EYE FOR AN EYE, RAGE AGAINST THE MACHINE, CRO-MAGS, BIOHAZARD, BATTERY, IGNITE, EARTH CRISIS, INSTED, BLINDFOLD, CONFRONT, UNBROKEN, VERBAL ASSAULT. There are many variations of hardcore music. Besides straight edge and hard-line we could also find out about: Christcore, deathcore, grindcore, metalcore and eventually hatecore (e.g. SHEER TERROR, BLOOD FOR BLOOD, NEGLECT, HATEBREED, RYKERS).
Christcore - the lyrics are devoted to The Holy Person - Jesus Christ and the sacred rules established by Him: love, goodness, mercy, faith, fidelity, hospitality. The followers of this branch protest against violating these rules.
Hatecore - the lyrics refer to hate. It is about the worst things in man such as: evil, libido, sex drives, negative emotions like: hatred, jealousy, envy, fear, anxiety, regret, guilt, neurotic pride, vanity
Deathcore - as the name suggests the lyrics concern dying, mortality, suicide and suffering.
Grindcore - this variation makes extreme noise and it is similar to thrash metal, the lyrics seem to be less important
It should be noted that just a few branches of hardcore music have been described here. There is more of them since hardcore is basically linked to a variety of rock music genres such as: heavy metal (especially thrash metal and metalcore), rap, hip-hop, punk rock or even new wave.
Punk rock and hardcore fans do not live in a perfect harmony. Some hardcore followers disrespect punks for being rejects and scum. The difference is in attitude towards living. Punks sometimes suffer from self-destruction. They destroy themselves by alcohol and drug abuse. Hardcore fans are more creative and have a tendency to work on themselves. It happens that hardcore fans beat punks at concerts and are allied with skinheads. Some hardcore "crews" believe in "punk rock&hardcore union". So, they usually stay united, facing up to danger of being mugged by nazi punks and skinheads.
The word "crew" refers to the bunch of punk rock or hardcore fans, micro-community, support group. The members of such a group help each other, share the possessions, money and thus are quite independent of the state.The crew may remind us of the commune set up by hippie in the 1960s. The last dimension in the context of the difference between heavy metal rock and hardcore is the hard rock influence. It can be assumed that hard rock had a stronger impact on heavy metal development. On the other hand, punk rock music was the source of inspiration taking into consideration hardcore artists. We may even say that punk rock is an elder brother of hardcore.The same could be told about the association between hard rock and heavy metal music.
NEW WAVE
Although many experts at punk music avoid using a label "new wave" such a term is employed in a specific fashion. It has been coined with reference to this part of punk music which sounds in a different way. It is much more mysterious, symbolic, imaginative and complex music than pure punk. Sometimes, the appropriate name is also either "gothic rock" or "alternative rock". But, it often happens that "gothic rock" and "alternative rock" are believed to be two distinct genres of music. Nevertheless, "new wave", "gothic rock" and "alternative rock" sometimes sound quite alike.
As for the new wave or alternative, JOY DIVISION (initially, also known as WARSAW) are the good example. This band is now regarded as "classic new wave". It is admired not only by punk rockers but by the people who know so little about punk. JOY DIVISION became a legend after the death of their charismatic leader - Ion Curtis. He hung himself. He had had to put up with his tragic disease (epilepsy) for several years. Furthermore, he was entangled with another woman. It could have led to his marriage break-up. The music composed by JOY DIVISION resembled film images which reflected gloomy, dim, dark, sad or mysterious reality. Moreover, their music was actually evolving from post-punk (WARSAW) to the more complex sound on the last studio album ("Closer"). The band could have perfectly combined lyrics with music. It was a smashing mixture. Through their lyrics, the band somehow told us the movie stories about alienation, isolation, suffering and human pitfalls. JOY DIVISION music was based on a clearly isolated bass guitar sound. It was one of the first bands which chose to play that peculiar way. Other examples are: THE FALL, SONIC YOUTH, SISTERS OF MERCY, XMAL DEUTSCHLAND, INTERPOL, THE KILLERS.
Furthermore, "the new wave sound" can be also heard while listening to many bands which have been searching for ingenious music solutions, e.g. BLONDIE, SIOUXIE AND THE BANSHEES, NICK CAVE AND THE BAD SEEDS, KILLING JOKE, DEVO, TALKING HEADS, XTC, THE THE, TUXEDOMOON, NINE INCH NAILS, DEUS, MORPHINE, BECK, SWANS, LAIBACH, KRAFTWERK, SUICIDE, THE YOUNG GODS, PULP, THE WOLFGANG PRESS, THE SMITHS, THROWING MUSES, THIS MORTAL COIL, DEAD CAN DANCE, KORN, JANE'S ADDICTION, KLAXONS, THE DANDY WARHOLS, THE SMASHING PUMPKINS, THE CRANBERRIES. These bands sometimes embody different styles of music: electronic, jazz, punk, industrial, new wave, hardcore, pop, rap, soul, funk and reggae.
Moreover, it is likely to be the case that "avant-garde" may be an appropriate word in this debate on the new wave and alternative music styles. Therefore, in this regard, FRANK ZAPPA could be considered a leading American artist who has had a huge impact on many bands playing this sort of music. His songs actually remind us of a garden variety of sounds and tunes, hence they may be classified as various music genres. The different pieces (genres) of the music composed by him are clustered around the idea or concept of "avant-garde", "novelty" and "exceptionality".
And similarly, there is a strong linkage or association between such genres as "new wave" and "new romantics" represented, especially by British bands: ULTRAVOX, THE HUMAN LEAGUE, A FLOCK OF SEAGULLS, DURAN DURAN, TEARS FOR FEARS, VISAGE, SPANDAU BALLET, ADAM AND THE ANTS, SIMPLE MINDS, DEPECHE MODE.
THE FAMOUS BANDS AND ARTISTS HAVING PUNK ROOTS
There are many great bands which could have been admired on the stage during "punk boom". It happens that this fact is just overlooked. Although, over the decades many of them have been drastically changing the artistic image, their creative activity somehow resembles punk.
THE POLICE (a famous song called "Roxenne" sounds like punk);
THE STRANGLERS (especially their song called "No more heroes");
SIMPLE MINDS; DEPECHE MODE usually classified as "new romantics" (they have never played punk rock, but they were impressed by first punk bands shows);
METALLICA (Lars Ullrich said: "Recording our first LP "Kill'em all" we tried to merge punk rock with hard rock music - the effect was magnificent...". The hot LP of METALLICA "GARAGE A.D." contains tracks by such punk bands as: DISCHARGE, MISFITS and many many more. These songs were their favourite when they were teenagers);
SLAYER (One of the guitarists has been always a fan of punk rock. SLAYER along with ICE-T recorded their special track titled "Disorder". It was a combination of three separate songs by THE EXPLOITED: "UK 82", "War" and "Disorder" itself, actually molded into one piece of music. It could be found on the soundtrack of "Judgement Night" movie. The song was probably devoted to the youth riot provoked by the police killing of two black teenagers in the 1990s, LA. It has been one of the most powerful tracks ever played);
THE BOOMTOWN RATS (Bob Geldoff);
DAVID BOWIE and his bands (he was a friend of IGGY POP and along with Iggy he could have been seen as a famous artist in the world of punk and new wave music);
KISS (Although the music they have played for over 40 years is neither punk rock nor hardcore, they may be regarded as one of the pioneers of shock, glam rock. Punk rockers might have been inspired by their provocative and "theatrical" shows);
NIRVANA (a track called "smells like a teen spirit" is the song about anarchist attitude);
PEARL JAM; THE CURE; U2; RED HOT CHILI PEPPERS and many many more.