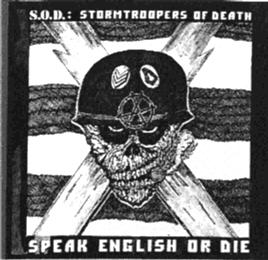 S.O.D. "Speak English or die!! - lista utworów
March of The S.O.D. - Marsz S.O.D.
Sargent "D" & THE S.O.D. - Sier¿ant "D" i S.O.D.
Kill yourself - Zabij siê
Milano Mosh - Milano Mosh
Speak English or die - Mów po angielsku albo umieraj
United forces - Zjednoczone si³y
Chromatic death - Kolorowa smieræ
Pi Alpha Nu - Pi Alpha Nu
Anti-procrastination song - Piosenka anty-obiboka
What's that noise - Co za ha³as
Freddy Krueger -
Milk - Mleko (chodzi o spermê)
Pre-menstraul princess blues - Przedmenstrucyjny blues ksiê¿niczki
Pussy whipped - Ch³osta cipki
Fist banging mania - Mania walenia piêsciami
No turning back - Bez odwrotu
Fuck the middle east - Pieprzyæ Środkowy Wschód
Douche crew - Za³oga Douche
Hey Gordy! - Hey Gordy!
---
ALL THE SONGS TRANSLATED INTO POLISH BY PIOTR GINDRICH, 1998